HISTORY OF
THE EAST GREENWICH AMBULANCE ASSOCIATION, INC.
from the 1981 East Greenwich Centennial Booklet [by Louise Gould]
Early in the 1970's, East Greenwich was having an unusual number of accidents at its railroad crossings. While the members of both Fire Companies and the Mt. Royal Rescue Squad were responding to the calls, they noticed they had to wait a considerable length of time for an ambulance to arrive from surrounding townships. At one of these calls, the question was raised as to whether or not a township ambulance squad should be created. The question was also raised as to whether it should be part of one of the fire companies, or a separate unit. It was decided to form a separate organization to encourage all residents, especially women, to join. Mt. Royal Fire Co. invited them to house the ambulance in their firehouse temporarily, and promised to give their support, whenever possible.
The first organizational meeting was held at the Mt. Royal Firehouse on Feb. 24, 1972. Temporary officers elected were: John Price, chairman; Bob Gould, Jr., secretary and Jay Hammel, representative to Gloucester County Ambulance Association. Present were: John Price, Jay Hammel, John Randall, Terry Ballinger, Ralph Hammond, Carl Jacobson, Carmen Feuerborn, Rev. Jack Hamilton, Keith Wise and Bob Gould, Jr.
On March 9, 1972, the first official meeting of the association was held at Mr. Royal. John Price reported that the Junior Women's Club, the Lions Club, and the Senior Citizens Club would aid the association to help them gain both moral and financial support in the community. Elected were: Bob Gould, Jr., chairman, Carl Jacobson, treasurer, Helen McClay, vice president, and Dan McClain, secretary. It was decided to distribute flyers to the residents asking for contributions to buy an ambulance.
May 16, 1972 it was reported that $2,046.85 had been contributed in response to their flyer. It was reported that the Township Committee questioned whether or not an ambulance service was needed. It was later reported that the Township Committee had agreed to appropriate $20,000 to the 1973 budget to purchase an ambulance. Proceedings were begun to incorporate the organization, and Amos Peaslee, Jr. volunteered to handle the legal aspects of the corporation. It was also decided to join the Gloucester County Ambulance Association. The following officers were added: Capt.--Bob Gould, Jr.; Training Officer--Jay Hammel; Engineer--Bruce Thompson, Sr.
August 31, 1972 a special meeting was called and Amos Peaslee officially incorporated the Ambulance Association. A modular type ambulance had been ordered in July, and since the expected Federal Grant had been delayed, letters were sent out to residents asking for their financial help.
A motion was made and duly carried, that Amos Peaslee and Lou Oberg be made full members of the Association, as an expression of gratitude for their help in the incorporation and gaining township approval. The mayor was notified that the Federal Grant was approved in the amount of $7,510.50 effective as of Sept. 9, 1972.
The Chief of Police assigned a number to the ambulance vehicle for radio transmission purposes, and it was agreed that one blast of the siren would indicate the ambulance was needed.
November 13, 1971, at the Township Meeting, Mayor Carl Nolte declared the East Greenwich Ambulance Association, Inc., "in service." Approximately 20 minutes later, the ambulance responded to its first call. It was a call to aid a Mr. Frank Shoemaker, age 23, of Repaupo Station Rd. who had a car accident. The patient was treated at the scene and then transported to Underwood Memorial Hospital, Woodbury.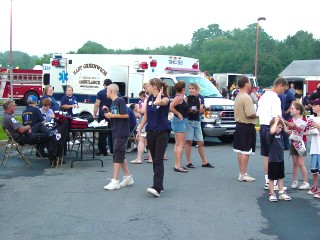 East Greenwich Ambulance Assn. was the first quad to have a modular ambulance; the first to go from the familiar red to the Omaha Orange; the first squad to work off a 24 hour schedule. Most of these members have given months of their time to attend courses at the Community College, and received Advanced Aid and E.M.T. (Emergency Medical Training) certificates. Since its inception 85 residents have become members of the Ambulance Association 50 of these are Life Members. [These numbers are from 1981]. New members are always welcome.
The first birth to take place on the ambulance was on Sept. 26, 1974, to Mrs. Carmen Feuerborn. In attendance were Joan Gallagher, Ginny Harbison and Janet Marsh. The new father, Carmen Feuerborn, was driving with Rev. Gerry Reiss as co-pilot. When Carmen reached the hospital, he already had a new daughter, whom they named Susan Michelle Feuerborn.
For many years it was discussed about where to build a permanent home for the ambulance. It was not until late 1980, when after many heated decisions, it was finally decided to build behind the Municipal Building [now the Amos J. Peaslee Annex] in Clarksboro. The building committee consisted of: Jenkin Lane, Mark Stefanowicz, Louise Gould, Donald Denelsbeck and Rich Dobbins. The building was completed in 1981.
Officers for 1981 were: Mark Stefanowitz, president; Jenkin Lake, vice president; Carl Jacobson, treasurer; Jackie Mann, transcribing secretary; Bob Gould, Jr., captain; Ruth Hoffman, lieutenant; Carmen Feuerborn, lieutenant; Don Denelsbeck, training officer; John Mann and Jim Marks, engineers; and Rich Dobbins, executive member.
In July of 2003, when the new Township Municipal building was completed, the Ambulance Association offices moved into the older municipal building, renamed the "Amos J. Peaslee, Jr. Municipal Annex" on 21 E. Cohawkin Road in Clarksboro. A dedication event open to the public, was held in July of 2003. William Calderwood, president of the association, assisted with the ribbon cutting ceremonies.