St. Peter's Episcopal Church
was founded at Berkeley [now
Mount Royal
]. The original 1770 deed for the land at Berkley clearly states that "
the said half acres of ground...for the use of an English Church to be built and Burying Ground
."
In 1765 the first Episcopal church service was held in a private home in Mt. Royal. Residents continued to receive visits from
Nathaniel Evans
, an ordained Episocopal deacon and poet, who "as opportunity permitted, visited and preached on week days in several parts of the county, wherever a few church families had settled...(including) Mantua Creek." This preaching was typical held in private dwellings if no church structure had been built. [
Rev. Evans wrote a poem about Benjamin Franklin, after hearing him play the hamonica
].
When Nathaniel Evans died in 1767, well-kept diaries of
Dr. Nicholas Collin
, Bishop Asbury and the Rev. Joseph Pilmore state that Methodists preached in the new church. From 1767 to November of 1770 there was no missionary to take Evan's place.
As odd as this sounds to us now, years ago this occurred frequently in our area. Pulpits became vacant for many reasons, and replacements would very often be several years arriving to take charge. During times when the churches were without ministers, its parishioners would willingly accept the services of another clergyman, regardless of demonination.
---
Inside St. Peter's Church
Photographs taken by Janice Brown, May 2004
It is probably that following the death of Nathaniel Evans, his father, Edward Evans, (an early Methodist) took up his son's congregations in New Jersey.
Joseph Pilmore
wrote of him, "He frequently went into the Jerseys to preach, and as the people were exceedingly fond of him, built a pretty little chapel, and insisted on having him for their minister (October 1771)."
This church property was located on Mantua Creek, at what is now called Mount Royal, and probably at the same location as the current
old St. Peter's cemetery
. On November 29, 1770 a half acre lot was deeded by Uriah Paul to Edward Evans of Philadelphia and eleven other "managers," Evans being named first. When Edward Evans died less than two years later in 1771, Pilmore preached his funeral sermon in a chapel there at the "request of the heads of the congregation."
Reverend David Griffith followed Evans, but remained only a short time. From April 1771 until November 1773 the mission was once again without a missionary.
Francis Asbury
, who had come to America at the request of John Wesley to aid in the work of Methodism, and who later became the first American Bishop of the Methodist Episcopal Church, arrived in Philadelphia in1771. From his journal we know that he preached at this church in Berkley.
On November 20, 1773 Robert Blackwell was appointed by the Bishop of London to Gloucester County to fill the vacancy caused by the removal of David Griffith in 1771. On April 7, 1774 the congregation of Greenwich (now East Greenwich) appointed Rev. Blackwell a manager to fill the vacancy left since the death of Edward Evans in 1771.
On June 30, 1774, a regular meeting was held by appointment of the Greenwich Church managers and several regulations agreed upon, including:
that it was the intent that the land and premises were for the use of the contributors whose names were entered in 'The Greenwich Church Book'; that by far the greater part of the monies laid out in said building were given by persons who professed themselves members of the Church of England; that from this day forward no person shall preach in this House but the Clergy of the Church of England, unless he first obtain leave under the hand of Dr. Botto Otto, Jr.; any person dissatisfied with this resolve may have his money back by applying to Thomas Clark, Esquire.
This document was signed by Robert Blackwell, along with managers and clerks as follows: Timothy Clark, Isaac Inskeep, Thomas Thomson, Samuel Tonkin, Jonathan Chew, Gabriel D. Viber and
Botto Otto, Jr.
Mr. Joshua Paul and Mr. Jeffrey Chew, being present, agreed that the above resolves were right and just and they declined to serve any longer as managers of said Church. Dr. Bodo Otto and Gabriel D. Viber were chosen in their stead before the signing of these resolves.
A meeting held in September of 1775 increased the stringency of the above resolutions. This action caused a split in the congregation, part of the people going back to the ways of the Episcopalian and the rest to the new Evangel Faith (or Methodism), which had held class meetings, organized, and had built the church for Mr. Edward Evans.
From a handwritten document in the possession of St. Peter's Church: "The foundations for the old church at Berkeley were laid as early as 1765. There is unfortunately no drawing or sketch of the Church in existence. The Rev. J.Y. Burk in one of his papers speaks of Mr. Clark when he was 83 years of age with his recollection of the Church, 'as keen as if he had just seen it the day before.' He said
it was thoroughly well built, of a substantial frame structure about forty-five feet square with a hipped roof and stood on the old burial ground at Berkeley about seventy-five feet from the turnpike and there were stairways both right and left leading up to the gallery. A broad middle aisle ran from the door to the Chancel. The pulpit was the old fashioned kind called the three decker, consisting of one piece of furniture divided into three parts, a communion table at the bottom, over that a reading desk and over that the pulpit. The latter two reached by winding stairs. This form of pulpit can still be seen at Gloria Dei Church in Philadelphia or the old Moravian Church at Oldman's Creek near Swedesboro. The Church was not plastered, but the interior walls and ceiling were formed of neatly fitted boards painted white. The building was heated by a great ten plate stove.
"
In 1824 Reverend Richard D. Hall, was the regular minister in charge. He also served St. Mary's in Colestown, formed St. Stephen's in Mullica Hill, and also served at St. John's at Chew's Landing. Following Rev. Hall, Rev. William Bryant became rector for one year. Then Rev. Simon Wilmer of Pennsylvania was chosen (he was silenced in 1834 by Bishop Doane). Rev. Hiram Harrold (formerly a Methodist minister who became an Episcoplian) became rector in 1836
At a meeting on December 17, 1838 a resolution was adopted to purchase the house and premises that were occupied then by Rev. Mr. Harrold in Clarksboro to be occupied as a parsonage for the church.
---
Inside St. Peter's Church, Clarksboro
Photographs by Janice Brown May 2004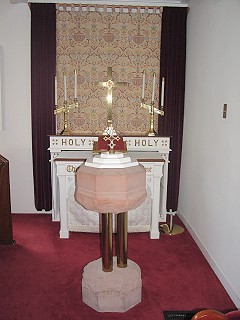 ---
At a special meeting of the congregation held Nov. 18, 1845, the matter of building a new church was considered.
The church's site was moved to Clarksboro
, and the stones from the original church were used
for the cemetery walls that still surround the old church yard
in Mount Royal on King's Highway.
Bishop George Washington Doane
dedicated the new (present) church. This new church was built near the junction of Cohawkin Rd. and Kings Highway in 1845 and dedicated on Dec 17, 1846.
The complete list of clergymen of St. Peter's Episcopal Church is:
Rev. Robert Blackwell, D.D., Rev. Richard D. Hall, Rev. William Bryant, Rev. Simon Wilmer, Rev. Hiram Harrold, Rev. Samuel C. Stratton, Rev. Archibald Beatty, Rev. Henry B. Barton, Rev. Isaac W. Hallam, Rev. Francis E.R. Chubbuck, Rev. James Hart Lamb, Rev. Jesse Y. Burk, Rev. J.H. O'Brien, Rev. D.W. Wells, Rev. T.L. Josephs, Rev. W.W. Williams, Rev. Lewis Chester Morrison, James F. Adams (Seminarian in charge), William J. Marvin (Seminarian in charge), Rev. Edward R. Cook, Rev. Gerald A. Reiss, and Rev. Dennis W. Nichols (who left in 2013).
The exterior of St. Peter's Episcopal Church can best be described as "New England Colonial."
SEE "
Events at St. Peter's Church
"